It seems like common sense to buy a product that is popular or seems to be doing well.  For example, a few of my friends will be buying the new I Phone X, largely because Apple has a proven track record of making successful and innovative phones.  As consumers, that is what we look for when buying things.
On a similar note, many investors think it is common sense to invest their money with a mutual fund manager that has proven to be the best by their performance, or track record.  It almost seems like that should be the only reasons to pick a mutual fund manager, is based on their track record.  But I am here to spoil that "common sense" belief when it comes to investing.
There has been recent research on this topic, which confirms decades of academic findings, suggesting you should avoid top-rated mutual funds.
"According to a new study by Baird Wealth Management Research, not only do mutual fund ratings not predict future performance, they may be reliable red lights that should warn you against buying a fund.  Baird analyst Aaron Reynolds asked the question "do fund ratings predict future performance?" Here's what he found:"
"For US stock funds, the research found that ratings were negatively predictive of future performance, e.g. a high rated fund will perform worse than a low rated fund."  How do you explain these results? Often, when a stock fund manager has a good year, it's due to chance. " 1
Further Proof

This is one of the myths of investing that Mark Matson talks about all of the time.  5 star mutual funds are the funds that have a great track record over the past few years and that seem to get everything right.  But check out this simple chart that further proves that Track Record Investing gives you below market returns.  2.
Average Annual Return       2007-2011            2012-2016
Top 30 Rated US Stock Funds from 2007-2011           5.07%                     4.35%
All US Stock Funds                                                   -0.12%                     12.04%
So the "top 30" funds from 2007 to 2011 beat the market as a whole by about 5%.   So lets say you read a magazine, saw a headline, or worse yet your investment advisor says to invest in one of these funds that "continually beats the market".   You decide to buy in at the end of 2011.  2012 through 2016 come, and your fund gets beat by the market by 8% annually for 5 years.  That's almost 40% total growth that you missed out on.  Plus you missed out on the 5 years that it beat the market because you got in based on the track record.
The Alternative Method for Deciding on Mutual Funds?
If looking at Track Record isn't the best way to determine what funds to invest in, then what is?  How about academic studies?  Studies done by Nobel Prize winners show that investing in a globally diversified fund, that doesn't try to beat the market, but just focuses on getting market returns and rebalancing is the best way to invest long term. 3.  You should not try to find a mutual fund that is going to beat the market, you need one that is going to get market returns and charge lower total fees.  Stock market returns over long periods of time are surprisingly high.  To get good long term returns, you don't need to gamble or speculate.  Fund managers that try to beat the market not only often fail in their quest, but they incur much more costs to you the investor.
Track Record Investing could be detrimental to your long term retirement portfolio.   Don't fall for the hot mutual fund headlines.
by Jimmy Hancock
References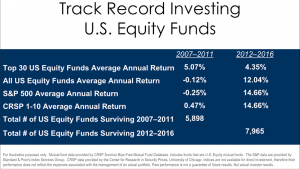 1. Wasik, John. "Why You Shouldn't Buy a Highly-Rated Mutual Fund." Forbes. Forbes Magazine, 24 Mar. 2014. Web. 26 Mar. 2014. <http://www.forbes.com/sites/johnwasik/2014/03/24/why-you-shouldnt-buy-a-highly-rated-mutual-fund/>.
2. Matson Money. Separating Myths From Truths, The Story of Investing. N.p.: n.p., n.d. PDF. https://www.matsonmoney.com/

3. Matson, Mark. Main Street Money. Mason: Mcgriff Video Productions, 2013. Print.