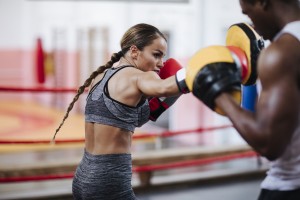 Wall Street Bullies are not just found in New York City, they are found in investment brokerages throughout the country.  In fact, your investment guy, might just be a wall street bully.
I explain a Wall Street Bully as an individual or institution that uses fear, greed, intimidation, and misleading information to get an investor to act in a certain way.
The core issue behind all of this is that people that work on wall street make money every time there is a trade made on stock or other security.   Acting like any salesman, it is in their best interest to get people to buy and sell every week, every day, every hour.  But the problem is, actively trading by buying and selling on impulse is not in the best interest of the long term investor.
Wall Street Bullies try to take advantage of under educated and uninformed investors by instilling fear in them and getting them to become short term focused even when they are long term investors.  They create the illusion that they are genius's that can outsmart the market with little to no risk if you just trust them.  There are 3 main types of Wall Street Bullies as stated by Mark Matson in his book "Main Street Money".
The 3 types of Wall Street Bullies
The Conman
This is the easiest one to identify, at least after they have been convicted.  Think of Bernie Madoff.  These people gain your trust with a great reputation and promise you great returns with no risk or downside.  If it seems to good to be true, it probably is.  Often times these con men send out false statements showing growth when in reality they are stealing your money.
The way to protect yourself from a con man is to never allow someone to manage your money that does not use a third party custodian to hold the money.  Without a third party custodian, the fox is guarding the hen house.   There were a lot of so called "sophisticated" investors who got caught up in the Bernie Madoff scheme and lost millions of dollars.
The Prognosticator
There is no shortage of self proclaimed genius fortune tellers who will convincingly claim that they know exactly what is going to happen in the stock market in the short term future.  They pull out charts, graphs, economic theories and data galore.  Investing in the stock market would be a whole lot easier if these "experts" really could predict the short term future.  Ultimately they are trying to sell newsletters or get media attention for their hedge fund or alternative strategy they are selling.
If your portfolio needs a prediction about the future to be successful, it is already broken.  If anyone tells you they know what the market is going to do in the next few days, or next few months, don't walk, run away.
The Guru
These are the sharply dressed people you see on the front cover of any investment magazine.  They are the ones have beaten the market in the past and think they can continue to do it forever.  They are reported to have amazing insights into which stocks are undervalued and which stocks to stay away from.  But the issue here is, there is ZERO correlation between a Guru's market beating performance in the past and his ability to do it in the future.
Guru's are the most common form of Wall Street Bully.  Many investment advisor's, Brokers, and money managers claim to be guru's who study and pick the best stocks that will beat the market as a whole.  Staying away from them can be hard, but instead, you should work with a investment coach who educates you on why stock picking is not necessary to have a successful long term portfolio.
What should you do?
At Preferred Retirement Options, we call it Bully Proofing Your Portfolio.  Not all investment professionals are Wall Street Bullies.  We help our investors follow the simple rules of investing, which are own equities, diversify, rebalance.  No crystal ball is necessary.
By Jimmy Hancock
References
Wall Street Wolf Cast. Digital image. N.p., n.d. Web. 20 Nov. 2016. <http://tse1.mm.bing.net/th?&id=OIP.M1ee62057658b9c97e8d311a77a7a7d78o0&w=300&h=204&c=0&pid=1.9&rs=0&p=0&r=0>.
Matson, Mark E. "1." Main Street Money: How to Outwit, Outsmart & out Invest the Wall Street Bullies. Cincinnati, OH: McGriff Pub., 2012. 3-5. Print.